Black History Month Great Black Person #1 of 29:
Ray Charles
What better way to kick off Black History Month 2012 than with a guy who can't see anything but black? Despite shamefully endorsing Pepsi instead of Coke (poor guy, no sense of sight or taste), Ray made our home state of Georgia proud. He overcame blindness and social injustices to accomplish some great things: 11 Top Ten hits, three #1 singles, the official state song of Georgia, a star on the Hollywood Walk of Fame, and he won Jamie Foxx an Oscar, which might be his greatest accomplishment of all. He's living proof that obstacles can be overcome... and that it IS cool to wear sunglasses inside. So thanks Ray, you're always on our minds.
Black History Month Great Black Person #2 of 29:
Cool Runnings/the Jamaican Bobsled Team
Feel the rhythm! Feel the rhyme! Get on up! It's bobsled time! COOL RUNNINGS! When I was a kid, this mantra applied to everything. Just replace the word bobsled with any activity and you're instantly pumped. It was the original five-hour energy drink. I've always related to Cool Runnings because like the characters in the movie, I too used to dream of being an Olympic sprinter. Sadly, much like the Jamaicans (who tripped and fell during the Olympic qualifying race), my hopes were also dashed by tragedy (the day I realized I was white). Yes, it's fair to say the Jamaican bobsled team has had a profound impact on my life. They taught me a lot about friendship, a lot about determination, and a little about dreadlocks. So, does Cool Runnings deserve to be on this list? Yeah, mon.
Black History Month Great Black Person #3 of 29:
Wiz Khalifa
It must be hard to be a wizard and a rapper. Young Wizard "Wiz" Khalifa somehow manages. Something tells me it has a lot to do with that magical plant he smokes with that filtered wand of his. The thing I admire most about Mr. Khalifa (besides the fact that he has more tattoos than an 11-year-old girl in 1995 had Beanie Babies) is that as much as he's done for blacks, he's done equally as much for yellows. I also like that he's a hometown fan... it takes a lot of gumption to support the Pittsburgh Pirates. (Anybody can cheer for the Yankees, Jay-Z.) So here's to you Wiz, someday I hope to be on your level.
Black History Month Great Black Person #4 of 29:
LaRon the Cable Guy


He may not be as famous as his adopted white brother Larry the Cable Guy, but LaRon has a lot going for him. First, unlike Larry, he'll actually fix your cable... and also unlike Larry, he'll do it while wearing sleeves. Sure, he may not be funny, but hey, neither is Larry the Cable Guy. He may not be overly charming or charismatic, but he gets the job done... which I'll take over "Git-R-Done" any day. You may not find LaRon (or anyone else on this list) on the Blue Collar Comedy Tour, but he's a blue collar guy... and that's the kind of guy I want on this list. So congrats LaRon, you may have lived your whole life in the shadow of your brother Larry, but now you have something he'll never have (besides rythym), the distinction of Great Black Person of the day.
Black History Month Great Black Person #5 of 29:
Morgan Freeman


Whenever I'm asked whether I'd rather lose my vision or my hearing, I always choose to part with sight, because if I lose my hearing, I'll never be able to listen to Morgan Freeman's voice again. Seriously, is there a better voice in the world today? If Morgan Freeman had done books on tape when I was in high school, I would have gotten better grades because I would have actually been able to make it through Crime and Punishment. In addition to Mr. Freeman's suave, soothing voice, there is, of course, his impressive catalog of movies. He's been in Glory, Million Dollar Baby, The Dark Knight, Gone Baby Gone, Amistad, Se7en, Driving Miss Daisy, Unforgiven, and personal favorite The Shawshank Redemption. Not too shabby. I may never win an Oscar, or have a silky-smooth voice, or be black, but someday I hope to be half as cool as Morgan Freeman... and hope is a good thing... maybe the best of things.
Kenan and Kel
Aww, here it goes!

If you were a white kid living in a white neighborhood in the 90s, then Kenan and Kel were probably your first two black friends. Whether it was getting involved in crazy schemes or working at Good Burger, Kenan and Kel were always good for a laugh. Personally, I very much preferred Kenan and Kel to the other Nickelodeon stars of the day. They weren't know-it-alls like Clarissa, or too reserved like Doug, or all secretive like Alex Mack... they kept it real... and they did it with Coolio.
Even after you got older, moved out of the white neighborhood, and hopefully made some real black friends, the duo continued to entertain you in movies (Mystery Men, Fat Albert) and TV (SNL). So thanks Kenan and Kel, y
ou guys are All That.
Black History Month Great Black Person #7 of 29:
Black Chess Pieces

Black chess pieces are among the most humble and well-mannered game pieces in board game history. First of all, they let the white chess pieces go first... EVERY TIME. That's pretty darn thoughtful. In addition to this startling display of etiquette, black chess pieces play by the rules, despite clearly being athletically superior to the white pieces. All these years, black bishops have glided along diagonally, never using their superior vertical leap. Black rooks have amazing lateral quickness, yet abide by the turn based rules of chess that give the white pieces a chance. And the poor black king... he can run a 4.4 in the 40 yard dash, yet limits himself to but one square at a time, all in the name of fair play. Yes, other board game pieces could learn a thing or two from black chess pieces... I'm looking at you Professor Plum.
Black History Month "Great" Black Person #8 of 29
Barack Obama

Me and B-Rock may not always see eye to eye, but he is the President, so I should probably respect that. It is nice to see a man with big ears that stick out hold an esteemed position. It gives big-eared people like me hope. Anyway, my mama said if you don't have anything nice to say, to not say anything at all... so this one is pretty short.
Black History Month Great Black Person #9 of 29
Future Winner of the 2012 Olympic 100m Dash

You don't exist yet, but your speed is an inspiration to millions. Your lightning quickness tests the very bounds of human limitation and makes us feel like anything is possible. When I see you scoot down that track, I question whether mankind needs wings to fly. I may not know exactly who you are yet, but I'm saving a spot for you on this list because, let's face it, you're going to be black.
Black History Month Great Black Person #10 of 29
Terry Crews


You may not know him by name, but trust me, you've seen Terry Crews somewhere. Whether it was in White Chicks, the Expendables, Everybody Hates Chris, an Old Spice commercial, or even on the gridiron in the NFL, it's hard to miss a man who's that large. It's quite the accomplishment to be a professional football player and a professional actor... and he's managed to do it without killing anybody (ahem, OJ). He may never win an Oscar (well you never know, Mo'Nique did), but there's something very likable about Terry's intensity and his big smile. Yes, I think if they ever make a movie about me, I'd like to be played by Terry Crews. So happy Black History Month Mr. Crews... everybody may hate Chris, but everybody loves you.
Black History Month Great Black Person #11 of 29
JoJo

It was a good long while between the time I first heard JoJo on the radio and when I finally saw her in a music video. During that time, I had assumed JoJo was black. Yes, I know it's bad to assume, but her voice was so soulful that I didn't think it originated from a tiny white girl. So I knew the truth, but the truth was too little, too late. JoJo was black in my mind for such a long time that I don't feel bad including her on this list... and if you don't like it, you can get out (leave!), right now.
Black History Month Great Black Person #12 of 29
TLC


My adolescent years were confusing times, full of many perplexing questions. Lucky for me, TLC was around back then to answer those tough questions. What exactly is a scrub? Should I chase waterfalls? Is there another word for 'opposite of pretty' besides ugly? Yes, TLC was truly a wealth of information. In addition to being my 90s version of Google, I liked TLC because they were from my hometown of Atlanta and because they were different from the other popular groups at the time. You didn't see Green Day or Seal wearing tape under their eyes or doing the All That theme song or burning down football players' houses. Pssh, scrubs. So thanks for all you did Chilli, T-Boz, and Left Eye (RIP); you three will always be crazysexycool.
Black History Month Great Black Person #13 of 29:
The city of Riverdale


My hometown of Riverdale, Georgia is home to more black heroes per capita than any other city in America. T.I. Waka Flocka, Ciara, Marquis Grissom, Tashard Choice, and The Petal Playlist have all called Riverdale home. Not bad for a town of only 13,000 people. And look at all the nice things Wikipedia has to say about the city:
"The crime rate in Riverdale is nearly twice that of Atlanta."
"Gang activity is considered very common in Riverdale."
"One of Riverdale's major issues has been its reputation for murder and rape."
Eat your heart out 8 Mile. So my hometown has a few social issues... there are still a lot of great things about Riverdale:
Setting for the Archie comics

Not located in Alabama

Ummm...
Okay, so Riverdale is kinda sketch, but it's where I'm from and I'm proud...
...that I got the heck outta there.
Black History Month Great Black Person #14 of 29:
Sisqo


Some people think you only had one song... those people are pretty much right... but it was a doozy. Sure you had a few other hits, but nothing as lasting or as deeply personal as "The Thong Song." Not since the days of Sir Mix-A-Lot had a man dared to venture into such taboo territory... and you did it with silver hair. I haven't heard from you in a while, but I think you're primed for a comeback... if you're still alive. Happy Black History Month, Sisqo... and thanks for that song song song song song.
Black History Month Great Black Person #15 of 29:
Seal

I don't really care too much for Seal, but I figure he probably needs a pick-me-up after just getting dumped by supermodel Heidi Klum. Let's see, nice things to say about Seal... hmmm. Well, he got Heidi Klum... that's impressive. Especially since his face looks a little like the "before" pictures from a ProActive commercial. What else? Oh, he's sold like 20 million albums... but I'm guessing like 19.9 million of those are singles of "Kiss From A Rose." Anything else? Well, he's named after a cute animal. Not a lot of guys could pull that off. I don't think anyone would buy albums from Puppy Timberlake or Teacup Pig Bieber. I think that might be just about all I can muster for the former Mr. Klum. Take care, buddy... I'm sure another supermodel will inexplicably marry you soon.
Black History Month Great Black Person #16 of 29:
NBA Jam
Is it the shoes? No, it's NBA Jam! Aside from Super MarioKart, this is probably the video game I played the most as a kid. NBA Jam wasn't just a game though, it was a learning experience. I learned that in the NBA, traveling is okay. I learned that a team only needs two good players to succeed. Most importantly, I learned how to trash talk. Of course, it's a lot cooler to say "BOOM-shaka-laka" after a dunk than after a jump shot the way I always did in real life. So why does NBA Jam make it on the BHM list? Well, because I was always the Phoenix Suns and always used the talented black duo of Charles Barkley and Kevin Johnson. Sorry Dan Majerle, whities ride the pine on my Super Nintendo... just like in the real NBA. Anyway, thanks for all the years of over-the-top basketball fun, NBA Jam... you're still on fire.
Black History Month Great Black Person #17 of 29:
DJ Lance Rock
I admit it. I like Yo Gabba Gabba. I realize this statement usually goes hand in hand with either "I'm four years old" or "I like drugs," but that's not the case. I don't know if it's the crazy characters or the pretty colors or the surprisingly legit guest bands that make the show appealing to me, but I do know that I greatly admire the show's host, DJ Lance. It takes a special kind of person (or a lot of money) to don that orange outfit and make a fool or one's self on national television. It also takes serious skills to be simultaneously entertaining to children, ironically fun for adults, and mildly terrifying to everyone. I don't know exactly what it is that DJ Lance has, but he has it in spades. (Not a black joke.) So DJ Lance Rock, the children of the world and I thank you for all that you do... you. are. AWESOME!
Black History Month Great Black Person #18 of 29:
Kwame from Captain Planet
The most athletic of all the Planeteers, Kwame is entrusted with the power of Earth and is the leader of the eco-friendly group of Earth-savers. Through Kwame and his sweet flat-top, we are taught some valuable lessons on how to help save the environment. Lesson one: find and use a super-powerful ring that can manipulate matter. Lesson two: when in trouble, use said ring along with your friends' rings to summon a mega-powerful blue man in a cut-off shirt. Lesson three: recycle. Unfortunately, I'm not quite as talented as Kwame and have only been able to master one of those three things. Thanks anyway for trying Kwame... forget Captain Planet, you're my hero.
Black History Month Great Black Person #19 of 29:
You would think Chris Brown would have a real shot at this list. He's a wildly successful singer, a great dancer, and he's super dreamy. Unfortunately for Mr. Brown, unlike the Grammys, I don't give out accolades to guys who hit girls. I know Rihanna was probably annoying as all get out. "What's my name, Chris?" "Shut up and drive, Chris." "Make me feel like I'm the only girl in the world, Chris." We've all been there buddy. Life's hard when you're dating a beautiful celebrity. But you just can't resort to physical violence against a lady. I know this is disappointing news Chris, but Look At Me Now... this is my list, I Run It... and Black History Month will get along just fine Without You, so you can Kiss Kiss those dreams goodbye. And no need to ask if I'm sure... the answer is Yeah... 3x.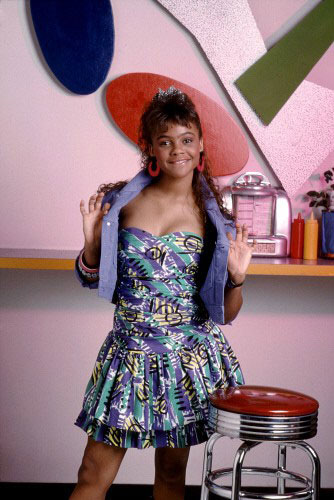 Black History Month Great Black Person #20 of 29:
Lisa from Saved By the Bell
Lisa Turtle was one of the only black kids at Bayside, but that didn't stop her from ruling the school. With a wardrobe even bigger than Slater's muscles, Lisa was the trendsetting fashionista of the show, inspiring young girls eveywhere to empty malls of all their patterned dresses and jean jackets. Of course, Lisa was more than just a fashion role model. She was rich and flaunted it, a far cry from the poor black characters on Good Times and What's Happening. She also stuck it to the white man daily by refusing to go out with Screech. So thanks Lisa Turtle, you managed to make my childhood Saturday mornings even better.
Black History Month Great Black Person #21 of 29:
It's been said that Wayne Brady makes Bill Cosby look like a pipe-hittin' gangsta, but I say, so what? Wayne can sing, dance, act, wear tight shirts, play gay dudes on TV... he can do it all. Who cares if he's the whitest black guy on the face of the planet? Black History Month is all about diversity and Wayne Brady helps make the black community (not BET's version of the NBC show) a little more diverse. Thanks Wayne, for Whose Line Is It Anyway, for that skit of Chapelle's Show, thanks for being so darn upbeat. We'll end your tribute with a quote from you: "I know that I might be a role model, especially being a young Black man on TV. And I'm fine with that because I stand behind what I do. I do a great job. I do a clean job. So if that gets me made fun of by another Black actor, then so be it. And if some kid in the projects or even in the suburbs watches what I do and says, 'I want to be like that,' then I've won."
Sister, Sister


Oh, Sister, Sister... you don't know much I've missed ya. Those crazy twin-related shenanigans Tia and Tamera were always getting into were TV gold. Black gold. More important than the show itself was the social impact of the Mowry twins, who were the first set of African-American twins to challenge the evil empire that was Mary-Kate and Ashley Olsen. For years, the Olsens had dominated the twin sector of Hollywood, shunning other twins from their inner circle for fear of losing their monopoly over all things identical. Eventually, Tia and Tamera proved too much for even the Olsen twins to withstand and earned their spot in twin Hollywood history... as well as in the hearts of TGIF viewers everywhere. Happy BHM, Tia, Tamera, and the rest of the Sister, Sister gang... except for you Roger... go home!
Black History Month Great Black Person #23 of 29:
Vin Diesel?


I don't think anyone truly knows the exact ethnicity of Vin Diesel, but I'm fairly sure he qualifies for this list. Over the years, poor Vin has gotten a bum rap as an inferior actor who stars in terrible movies, but that's not entirely true. He was in Saving Private Ryan, Pitch Black, and the surprisingly legit Fast Five... those are all solid. Also, his robotic acting came in handy when he voiced the Iron Giant in the (stellar) movie of the same name. Sure, Vin may not be the most talented actor in the world, but he's made some smart career choices. He's managed to pick movies that have loads of sequels and he's spent about half his career acting opposite of decidedly worse actor Paul Walker. Anyone looks like a good actor next to Paul Walker. So here's to you Vin Diesel, I'm sure we'll be seeing you soon in The Fast and the Furious 19.
Black History Month Great Black Person #24 of 29:
King Latifah


Much has been said and written about Queen Latifah, but behind every great black woman is a great black man. Rather than resort to jealousy, King Latifah is supportive of his wife and humbly enjoys his position away from the limelight. He admirably ignores all the ridiculous claims that his wife is lesbian and instead backs his wife in all her ambitions. Though I can't say much for his taste in women, it's hard not to respect a man who puts the happiness of others ahead of his own. Happy BHM, King Latifah... you da man and definitely not made up or anything.
Black History Month Great Black Person #25 of 29:
Grape Soda


Give me a chance to explain before you call me a racist. There's a story behind this. Growing up, there were usually only two different beverages in my house: Coke and sweet tea. Now those are some tasty beverages, but I always felt there was something missing in my life... that is, until a new kid moved in next door. Maurice and I were fast friends and yes, he was black. (I lived in Riverdale, remember?) One day, at Maurice's house, his parents offered me a grape Crush. It was love at first taste. When it hit my lips, it was like the first time I heard the Beatles. (Sgt. Purple's Lonely Hearts Club Band?) His parents realized how much I liked it and let me have a glass every time I came over. I started asking my parents to buy it and even experimented with other black staples such as pigs feet and chitlins as a result. Those were mistakes. Anyway, I loved grape soda and I loved Maurice. So yes, it's a stereotype that black people like grape soda, but it's one I would be proud of, because it's delicious. So, happy BHM, grape soda (not to be confused with purple drank)... and happy BHM, Maurice. I hope after I moved away that you carried on our tradition of being the only two kids in the neighborhood to not have committed a felony.
Black History Month Great Black Person #26 of 29:
Blade


There aren't very many black superheroes... especially ones who have the ability to do us all a favor by killing Edward Cullen. Oh, who am I kidding? I like Twilight... and I'm Team Edward. Still, it's nice to have a break from those underwear-on-the-outside white superheroes. I'm not big into comic books, so all I know about Blade is from the movies, but that's enough to know that Blade has all the strengths of vampires, without all the weaknesses. This is similar to how black NFL quarterbacks have the same athletic tools as white NFL quarterbacks, without being slow or subject to helmet hair. So thanks for keeping us all safe from vampires, Blade... too bad no one was able to keep you safe from those tax auditors.
Black History Month Great Black Person #27 of 29:
Martin Luther King Sr.


MLK Jr gets all the attention, but where would he be without dear ol' dad? Martin Sr paved the way by being the pastor at Ebenezer Baptist Church and an equal rights activist before Jr was even born. Yes, it's fair to say Sr was a major influence in Jr's life... just look at this well-documented conversation between the two when Jr was just a child:
Jr: Dad, I had a bad dream. Can I sleep with you tonight?
Sr: Sure son, I'm always here for you.
Jr: Thanks dad. That dream really scared me.
Sr: It's okay son, dreams aren't real. In the future, whenever you have a dream, just know that it's not real and that it'll never actually come into being.
Apparently MLK Jr didn't always listen to his father. In actuality, the two didn't always see eye to eye. In fact, Sr was a Nixon-supporting Republican at one point in his life. Still, if not for MLK Sr, there would never have been an MLK Jr and as a result, probably no Black History Month, which means I wouldn't be writing this. So, happy BHM to you, MLK Sr... sorry U2 never wrote a song about you.
Black History Month Great Black Person #28 of 29:
Calvin Johnson


For my money, Calvin is the best receiver on the planet... and he went to my beloved Georgia Tech. Despite being on the receiving end of crappy Matthew Stafford's weak, wobbly passes, Johnson led all WRs in yards and touchdowns this season. Fans nicknamed him Megatron because of his power and size, but I say if the real Megatron from Transformers possessed the same skill set as Calvin Johnson, the Decepticons would have defeated the Autobots long ago. Happy Black History Month, Calvin... Go Jackets!
Black History Month Great Black Person #29 of 29:
All the fine black people everywhere who read these posts and didn't get mad


Once again, it's been a lot of fun doing the Black History Month profiles and once again I appreciate the warm reception and understanding from all the African-American readers out there. By now you're all probably good and tired of these posts, but I hope you enjoyed them because I slaved (poor word choice) over each and every one. So happy Black History Month to one and all... see you all next year.